A Herd Bound in History
Oak Hollow is the largest Angus breeder in Kentucky, breeding over 400 registered females a year. The cow herd consistently breeds at a 97%+ conception rate in a 60-day breeding season in a commercial environment. There is constant selection for traits of economic importance.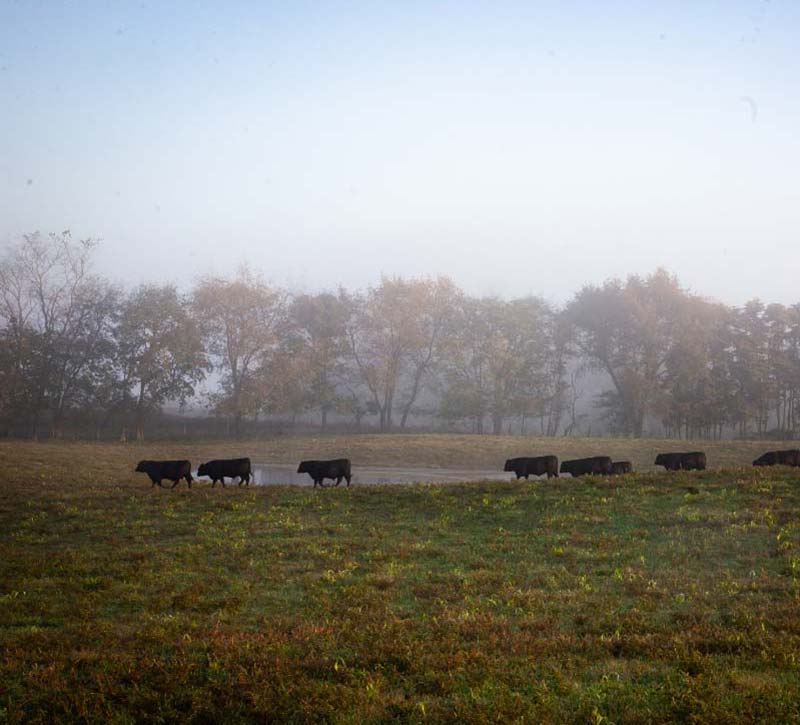 The original intention in establishing a herd of cows was to use top performance bulls from Graham Angus Farm in Albany, Georgia to improve traits of economic importance (maternal and production), to do performance testing and to keep the top replacements to build the best cow herd possible. The Graham herd was selected because it was used as an example in my animal breeding class as to how performance testing could be used to increase production. The Graham herd was also recognized as one of the top maternal herds at that time.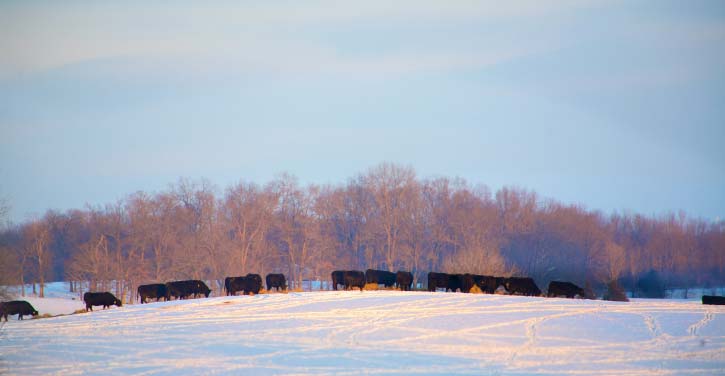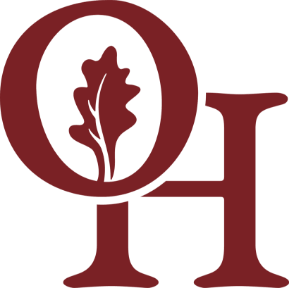 In 1976, Dr. Charles Chitwood and Ralph Phillips negotiated with Bruce Davis, Manager of Hicks Brothers herd, in Midway, Kentucky to select the top 12 pairs from the Davis herd and the Hicks Brothers herd. Dr. Gordon Jones (Professor of Animal Science at Western Kentucky University) and Chuck Grove (Kentucky and Tennessee Regional Manager for the American Angus Association) made the selection. They selected the 12 best cow/calf pairs for Chitwood and Phillips. No reservation was placed on any animal from either herd. U K Cliolier 451 and U K Erica 455 both came from Hicks Brothers. Both animals were owned previously by the University of Kentucky and were sired by Finance of Wye. Hicks Brothers acquired the animals in exchange for breeding fees from UK. The remaining 10 females came from Davis' herd. The females from his herd included Davista Eurotia 114, Davista Blackbird 164, Davista Effie 183, Davista Paula 224, Davista Blackcap 323, Eurotia Jo D 344, Davista Effie 423, Davista Effie 54, Davista Barbara 64, and Davista Eurotia 74. Chitwood and Phillips retained all the heifer calves.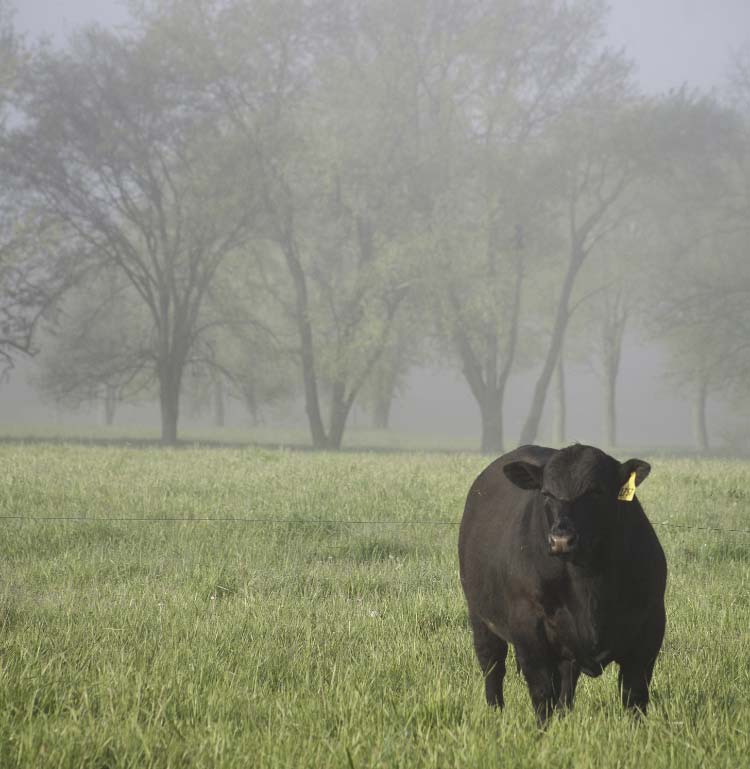 1978 - Kenneth's First Purchase
At the time of my purchase, the Chitwood and Phillips cow herd had grown to 19 cows, 3 bred heifers, 14 calves, and Dunnedin of Graham W 13056. Grove had selected the bull 2 years earlier for Dr. Chitwood. I purchased the herd in its entirety.
I had daughters of 1305 to breed, so I attended the 1978 Graham Fall Open House looking for my next purchase but did not find exactly what I was looking for in a herd sire. The day before the sale I met Bill Hodge, manager of Irvington Angus. He told me about a bull that he purchased from Graham 2 years earlier that he was ready to move. On the day of Graham's sale, I met John Crouch, who was familiar with the cow herd I had purchased, for breakfast to show him the pedigree of Graham Corbinaire W-3 that Irvington Angus had for sale. Crouch said that had he been sent to purchase a bull for my herd of cows that he would have purchased the bull with no reservations. (Years earlier I met Crouch at a livestock judging competition in Macon, Georgia. We had dinner that evening, and the conversation was all about Angus cows. I shared many of his views relating to performance testing and the importance of maternal traits in Angus cows. At that time, Crouch was an Angus field man and was later Director of Performance and followed as CEO of the American Angus Association.) I made the trip north from Graham's sale to West Point, Georgia to see the bull. Upon seeing the bull, I knew immediately that I wanted to purchase him for my herd. I made the trade and the next year bred the entire herd to Graham Corbinaire W-3.
During the spring of 1981, I was ready to breed Corbinaire daughters. I once again made the trip to Graham's sale. I purchased Menteith of Graham W 17800, which was their top selling bull. He was sired by Menteith of Graham 15087, a bull who was a top growth sire in the early sire summaries. Menteith of Graham W 17800 was one of the top performing bulls out of a 2 generation pathfinder cow, Graham Blackbird W 14.
Spring 1985 - Start of Artificial Insemination
I continued going to Graham's and purchasing their top end bulls. During the spring of 1985, I decided that my top end cows were as good as Graham's top cows, but I could not get the same dollars that they could for breeding stock. I speculated that if I used bulls out of my best cows that were sired by high accuracy performance AI sires, I could raise bulls as good as what I could buy at Graham's
During the fall of 1985, the first EPDs were available on my entire cow herd. What I suspected earlier was correct. My best cows were as good as the best cows at Grahams that produced the bulls that I had been buying. By having EPDs on my cow herd and my yearling bulls, I was able to use my yearling bulls confidently knowing where they ranked nationally.
I continued buying Graham bulls and breeding AI to high accuracy performance bred bulls, and I started using more and more home raised bulls in my breeding program. In selecting these bulls, I remained true to my original principals in selecting for maternal traits (fertility, calving ease, milk and growth) and developing the best cow herd possible.
From 1985 until today, I have primarily used home raised bulls with multi-generations of Oak Hollow breeding behind them. I have increased the use of my own genetics out of high performing cows. Through this process, I have seen greater consistency and maternal performance in my cow herd without increasing mature size for increased efficiency.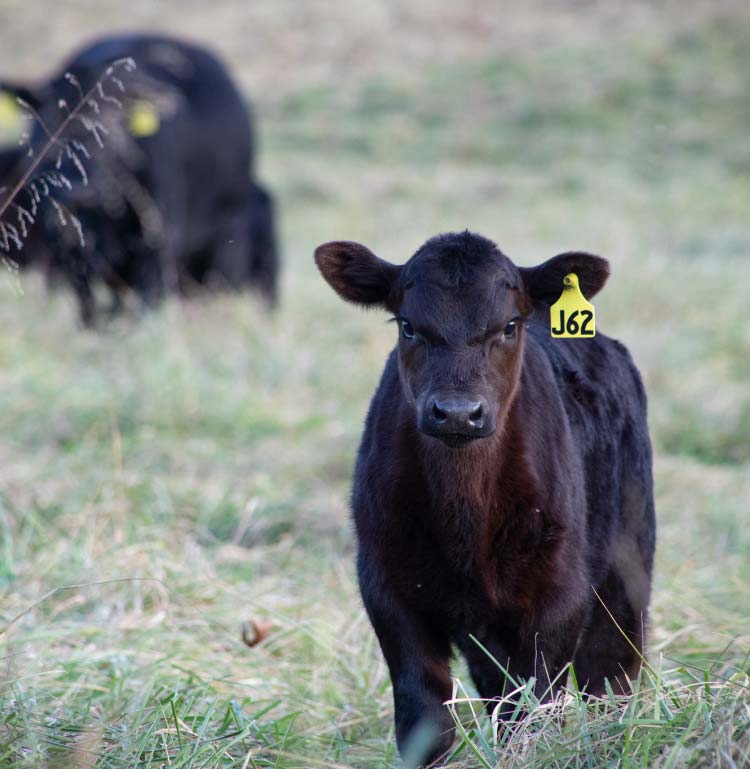 Kenneth and Joe Kenneth are the 7th and 8th generations to work in the cattle industry in Smiths Grove, Kentucky. The cow herd consistently breeds at a 97%+ conception rate in a 60-day breeding season in a commercial environment. There is constant selection for traits of economic importance. Oak Hollow females must be profitable for the commercial cattleman. If females are not profitable selling their pounds of weaned calf at steer price then they will no longer be in the herd. The traits of the utmost importance include fertility, calving ease, optimal milk production and structural soundness. After these basic requirements are met the calves must then grow and grade. By first selecting for maternal traits of economic importance, we can produce the highest quality beef at the lowest cost of production.